S-100 Data: What It Is, How It Works and Why You Should Care

Svein Skjæveland
Jun 11, 2021
After decades of using S-57 data for navigation, a new generation of digital products and services promises to empower hydrographic, maritime and GIS communities with data that pushes traditional hydrography boundaries.
Effective dissemination of nautical information has always been critical to ensuring safe navigation at sea. Since ancient times, navigators have relied on the best available information they could get their hands on to help them sail safely from one port to another – from ancient, sketched illustrations via more formalised, traditional paper charts to our current Electronic Navigational Charts (ENC) displayed on Electronic Chart Display and Information Systems (ECDIS).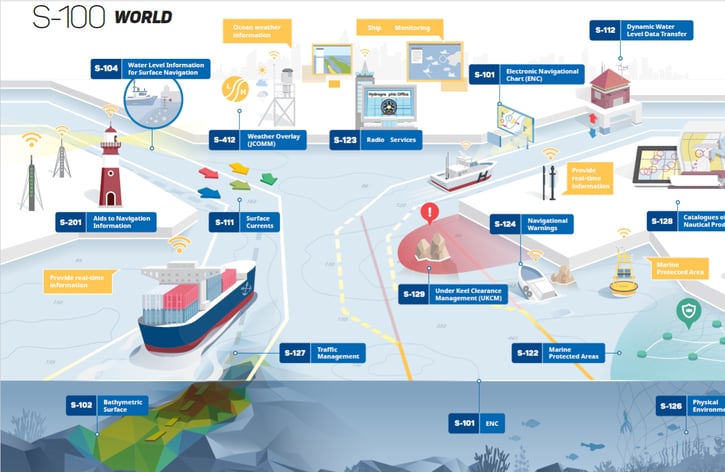 Photo: The S-100 Universal Hydrographic Data Model (Source: International Hydrographic Organization).
Although modern technology has helped disseminate navigational information more effectively than ever before, the current standard for hydrographic information is on the verge of becoming outdated for the modern navigator. To cope, a new standard for the exchange of digital hydrographic data – the S-100 – is emerging, promising to offer hydrographic and maritime communities with a range of new digital products and services. To provide clients and end-users with the best possible advice and solutions, innovative maritime distributors and value-added resellers should thoroughly investigate the opportunities inherent in the new S-100 paradigm.
Read also: The Ultimate Guide to S-100 Data and Products
From S-57 to S-100
Today, most ENCs are based on the S-57 standard, which was created decades ago, and no longer meets the requirements in our digital society. Although the S-57 has its qualities, it is used almost exclusively for encoding ENCs for use in ECDIS, suffers from strict maintenance regimes and is ultimately unable to support the coming era of interoperability in the digital hydrographic information.
On this backdrop, the International Hydrographic Organization (IHO) has developed a new and more versatile standard for exchanging digital hydrographic data – the S-100. Although building upon the foundation laid down by the S-57 framework, the S-100 is a brand-new standard that will ultimately replace the existing standard with a new framework that enables the development of next-gen ENC products, in addition to other useful digital products. Contrary to the S-57 standard, the S-100 will support a wider variety of hydrographic data sources, products and users. It will incorporate the requirements for compiling and visualising ENC data and include a range of new applications that go beyond the domain of traditional hydrography, such as high-density bathymetry, seafloor analysis and marine GIS.
Read also: Helping the Canadian Hydrographic Service (CHS) Leverage S-100 Data
S-100 Products
The S-100 will play a critical role in the digitalisation of the world of hydrographic data, functioning as a platform on which a range of new products and applications can be built to cater to various maritime end-user needs. Some of the most relevant S-100 products, which all have their dedicated S-10x number, are as follows:
S-101 Electronic Navigational Chart (ENC): The S-101 is the new product specification for Electronic Navigational Chart (ENC) datasets. It includes most of the characteristics of the current S-57 based ENCs but improves elements that will benefit from a more flexible framework. Compared to the S-57, the S-101 will enable easier data updating processes, software enhancements and improved symbology. Ultimately, the S-101 will replace the S-57 as the official chart data for ECDIS, provide the base layer for all S-100 products and underpin e-navigation services development.

S-102 Bathymetric Surface: The S-102 product will provide maritime users with detailed bathymetric data as a coverage layer to improve decision making on ship navigation and for other purposes. The S-102 product enables end-users to generate 3D visualisations of underwater ocean floors, so-called high-definition gridded bathymetry (HDGB), to support safety at sea, facilitate precise navigation and improve route planning operations for navigators and pilots.

S-104 Water Level Information for Surface Navigation: The S-104 product aims to encapsulate and transfer tidal and water level data to be used in ECDIS or any other dynamic tide application. Under development, the S-104 will soon provide end-users with information on historical and real-time water level observations and water level predictions.

S-111 Surface Currents: The S-111 aims to provide end-users with critical information on surface currents. As surface currents significantly affect vessel motions, the S-111 will ultimately help to maintain safety of navigation.

S-122 Marine Protected Areas: The S-122 product will supplement the S-101 ENC by encoding information on protected areas, oceans, estuaries or large lakes, so-called Marine Protected Areas (MPAs), so it can be used in ECDIS and other information systems.

S-129 Under Keel Clearance Management: The S-129 product intends to support maritime safety and efficiency of marine traffic by focusing on the clearance between vessel keel and bottom. The S-129 will help navigators plan sailings in areas with small margins between keel and vessel and provide information on the optimal sailing time based on water levels.
PRIMAR – Ensuring Efficient Delivery of S-100 Products
As the S-100 standard gains a foothold and increasingly becomes required by the maritime sector, ENC service providers will follow suit. Today, the ENC service provider PRIMAR is quickly adapting to the S-100 Decade, offering the infrastructure, tools and services necessary to leverage the opportunities of S-100 products and datasets. Operated by the Norwegian Hydrographic Service (NHS), with Electronic Chart Centre (ECC) as the service provider, PRIMAR gathers all ENCs and other chart products in a single database and creates a one-stop-shop for chart distributors and end-users. And the service is uniquely equipped to accommodate the coming S-100 Decade through the following functionality:
Flexible Infrastructure: As the world of hydrographic data goes digital, PRIMAR's infrastructure already offers new S-100 products as soon as they become available. As the first Regional ENC Coordinating Centre (RENC) in the world, PRIMAR's flexible infrastructure is designed to provide end-users with the latest S-100 data quickly and efficiently.

Reduced sensor-to-bridge turnaround time: PRIMAR aims to reduce the time from when data is produced by hydrographic offices to it being made available to end-users. As new S-100 data becomes available, PRIMAR quickly disseminates the data to end-users – while simultaneously maintaining rigorous data quality control. As the latest and best data is collected continuously, PRIMAR can push the data out to pilots and other end users via a subscription service in a matter of hours, not days and weeks.

User-friendly self-service portals: PRIMAR can produce data tailored to the products used by every single end-user on the fly. Instead of wading through massive amounts of data delivered on a CD format, end-users can easily download all updates relevant for their needs via PRIMAR's user-friendly self-service portal online.

Dual-fuel service while transitioning to S-101: Most S-100 products are new products with no previous versions available. However, the S-101 product ultimately aims to replace the existing S-57-based ENCs, provide the base chart layer for S-100 products and underpin the future e-navigation paradigm. While transitioning to the S-101 standard, PRIMAR will make sure that current S-57-based ENCs are still available for everyone who needs them.
Read also: How S-100 Data Enabled the Safe Port Approach of the World's Largest Crane Vessel
The S-100 era is slowly emerging on the horizon, and PRIMAR is here to help you harvest its opportunities. Forward-thinking distributors, value-added resellers and end-users that wish to have a strong position in the future e-navigation business should take action today.
For everyone interested, we are delighted to share our quick guide to the S-100 standard with you. Get a free download now:

Feel free to reach out to us in ECC for more information on how you can begin your S-100 journey today. Also check out the Electronic Navigational Chart (ENC) service PRIMAR which offers the necessary infrastructure, tools and services to leverage the opportunities of S-100 products and datasets.

Svein Skjæveland has worked with electronic navigational charts since 2003 at the Norwegian Hydrographic Service. Since 2006, Skjæveland is employed by the Electronic Chart Centre (ECC), working as Senior Geodata Consultant focusing on ENC validation and quality assurance. He currently holds a position as Manager International Standardization and has been involved in standardization since 2009, attending several IHO working groups.