SEAiq – An S-100 Data Trailblazer

Sølvi Tunge
Nov 27, 2022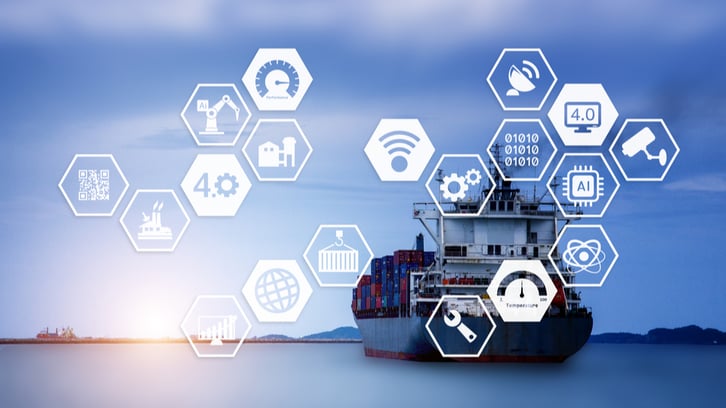 As the S-100 era emerges on the horizon, promising to supply hydrographic and maritime communities with a range of new and helpful digital products and services, marine software developers increasingly strive to offer support. Leading the charge is the innovative software developer SEAiq.
SEAiq offers the most powerful navigation software available, designed specifically for pilots, and the only multi-platform piloting solution with support for all major platforms, pilot plugs and portable pilot unit (PPU) devices. As the first to offer a product that supports S-100 data throughout the entire value chain – from production to end-user delivery – SEAiq is a true S-100 first mover.
With the help of ECC/PRIMAR and our remote update protocol, SEAiq now offers a simple and efficient method for maritime end-users and pilots to obtain navigational charts and keep them updated with S-100 data automatically.
We sat down with SEAiq founder and primum mobile, Mark Hayden, to hear his thoughts about the new S-100 paradigm and their cutting-edge, new software SEAiq Pilot.
If you are curious about the S-100, or just want a quick overview of what S-100 is about? Feel free to check out our S-100 Quick Guide down below:
Introducing SEAiq Pilot
SEAiq Pilot is a full feature Electronic Chart System (ECS), with a range of features that meet the needs of pilots, such as routes, NMEA/AIS support, docking modes, chart markup, record/playback, split window display and dynamic tides. In addition to the core ECS/ECDIS functions, SEAiq Pilot provides hundreds of additional capabilities mainly targeted at professional marine pilots, though other mariners also find them useful.
With 40 years of programming experience, including a PhD in Computer Science, and several successful start-up companies under his belt – including one purchased by Hewlett Packard and one with technology licensed by Ericsson for use in their cell phone switches – SEAiq founder and primum mobile, Mark Hayden, was uniquely equipped to develop the innovative SEAiq software.
Hayden got the idea for the SEAiq software while circumnavigating with his wife aboard their 53' sailboat.
– I started developing SEAiq while my wife and I were circumnavigating. Apple had recently released the first iPad tablet, and we found the early navigation app hard to use. Pilots were very interested in replacing bulky laptops with iPads since they often board ships on rope ladders; any weight savings would make their job much more manageable, Hayden explains.
Developed mainly by Hayden himself, with some assistance from contractors, the software was originally created for Apple IOS (iPads and iPhones) but is now also available on Windows PC and MacOS. Since its inception, SEAiq has continuously added new features required by pilots until they shifted their entire focus to their piloting product.
– Our software is developed to be readily extended for new features. It is not uncommon for us to provide a test version of a new feature within a few days of a request. We make test releases about once per week and official releases every few months, Hayden says.
And the adoption of SEAiq's products has grown considerably since its launch. About 50 % of professional marine pilots worldwide use SEAiq Pilot. Hayden attributes much of their success to feedback from the maritime community.
– Most of the features are based on requests from our pilot customers. We are lucky to work with a great set of pilots who constantly provide helpful feedback. Pilots are very detail-oriented and use our product daily in demanding situations.
– We carefully listen to suggestions from our users, especially professional pilots. We have a core group of "test pilots" who try out new features and provide detailed feedback. This feedback is a primary driver for our development, Hayden elaborates.
Efficient Distribution of S-100 Data Through ECC/PRIMAR
SEAiq have worked closely with PRIMAR/ECC for several years. Recently, SEAiq worked with PRIMAR/ECC on a project initiated by the Canadian Hydrographic Service (CHS) for IHO S-100 series products. Today, SEAiq support S-102, S-104 and S-111 download from PRIMAR's server, as well as the long-standing S-57/S-63.
For Hayden, ECC and PRIMAR are natural partners for delivering S-100 products to end-users.
– We think the PRIMAR remote update service for downloading and updating charts is the most reliable and advanced one available on the market. ECC/PRIMAR also include support for S-100 products, which we have not seen from any other chart producers, Hayden closes.
SEAiq's product is designed to download charts and other data products from the internet automatically. By connecting to ECC/PRIMAR's database and having a valid product license from a PRIMAR distributor, S-100 flows directly into end-user systems when pilots and other maritime users buy a SEAiq end-user license.
– For almost ten years, SEAiq has supported automatic download and updates from ECC/PRIMAR using their remote update protocol. This provides a straightforward method for users to get their charts and keep them up to date. They simply register their S-63 user permit with PRIMAR, and then SEAiq will automatically check for any charts or updates that become available, Hayden says.
Read also: The Ultimate Guide to S-100 Data and Products
The Future for S-100 Products
For SEAiq, the development of the S-100 standard and its related products and datasets is a critical step towards a new digital maritime industry. And Hayden believes the adoption of S-100 data will increase rapidly and significantly in the coming years.
– S-100 products are an important advance, and mariners will value the new capabilities they provide. We already see important ports using S-102 Bathymetric Surveys and adoption beginning for S-111 (Surface Currents) and S-104 (Water Level). I expect the process of adoption to continue making incremental advances. A key driver will be the availability of data in the new formats from vendors such as PRIMAR/ECC, Hayden closes.
If you are interested in investigating the opportunities of S-100 data today, ECC/PRIMAR offer a test dataset – free of charge. Access the test data by following the link below.

Sølvi Tunge is Key Account Manager in ECC. She has worked with electronic charts since 1994, including ENC production and validation, marketing and customer support, service development, and more recently as a project coordinator for the S-100 Demonstrator Project (https://s-100.no/). In addition, Tunge is responsible for the governmental users of ENCs in PRIMAR, closely cooperating with the Norwegian Coastal Administration (NCA). A request from the NCA for bathymetric data was the very first start of ECCs involvement in S-102 and the beginning of our Research and Development projects.